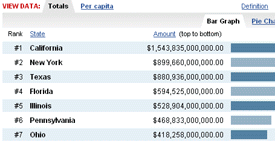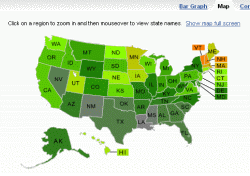 StateMaster: Where Stats Come Alive!

Welcome to StateMaster, a unique statistical database which allows you to research and compare a multitude of different data on US states. We have compiled information from various primary sources such as the US Census Bureau, the FBI, and the National Center for Educational Statistics. More than just a mere collection of various data, StateMaster goes beyond the numbers to provide you with visualization technology like pie charts, maps, graphs and scatterplots. We also have thousands of map and flag images, state profiles, and correlations.

We have stats on everything from toothless residents to percentage of carpoolers. Our database is increasing all the time, so be sure to check back with us regularly.

If you are interested in data on an international scale, be sure to check out NationMaster, our sister site and the world's largest central database for comparing countries.


What would the world look like if you shifted countries around based on similarity? What if you clustered countries according to statistical performance, rather than other predefined groups, regions and associations?
We did just that at NationMaster. We created network graphs where the most similar countries become neighbours. The more similar their statistical performance, the closer countries are. And if they're not that similar, we show no connection at all. (We tried showing more connections but then the graphs turned into big unreadable blobs).
This analysis doesn't directly take into account the kinds of institutions countries have or their cultural mix, just how they score in 4,000 different statistics. We chose to show only countries that had strong correlations, just so you could (almost) fit the graph on your screen. Exceptional countries like The United States often don't make an appearance for that reason.
What you get is a new way of looking at countries. It's not just interesting. It helps us here think about how we should group countries.
Below you see the graph for all indicators: You can see in the top left the West, and sub clusters within them: some English speaking former British colonies (Canada, NZ, Australia), Scandinavia, Western Europe, Southern Europe. Below you see a nice cluster for former Warsaw Pact countries, with Slovakia being the most typical. At the middle bottom we have our middle income countries: a mix of South America with some South East Asia.
In the bottom right hand corner of our map we see western Europe, with Southern Europe and Scandinavia in their own subclusters.
If you redrew the world map based on statistical similarity, South America and Asia would be neighbours and Japan would be in Scandinavia.
For
economic indicators
, you can see the PIIGS (Portugal, Ireland, Italy and Greece) are connected.
This is a tiny sneak peak into the new NationMaster we're building. We're recoding from scratch and are rethinking everything. Exciting times!
We couldn't have said it better ourselves.


We're on a freshness drive at NationMaster. No old stat is safe. We know you want to rely on us for the most recent stats on the net.
That's why we've updated our
crime stats
based on a
UN-affiliated 2011 report
, including data on
rapes
and
robberies
. We've also got figures for
car production
for 2010.
We applaud the
World Bank's open data initiative
, and we're currently working to import all that too, ensuring that the language is accessible as possible.
Videos
: I just did a search on YouTube and found these reviews. It's great to see the site represented in a visual form. Check this
NationMaster overview
in English and this
review of NationMaster in Spanish
.
Announcing the launch of perhaps our most useful feature yet. We find similar sentences to those in Wikipedia, complete with their citations for you to paste into your essay. It's the easy way to branch off to find authoritative sources and relevant quotes to deepen your research. Check it out at
The Full Wiki
.
The Full Wiki has released its most interactive feature:
quizzes on 44,000 topics
. We use Wikipedia as our source to what we believe is the largest quiz source in human history.
How much do you know about
volcanoes
? Or
Racism in Asia
? Or take our comprehensive
United States quiz
. Find out how much you know about
Tourism
. Test your knowledge on
hanging
and
serial killers
. Or the relationship between
alcohol and cancer
. If this all makes you sad, try our
sadness quiz
. Or if this is all boring you, perhaps you should take our
boredom quiz
.
It's all still in beta but check out our
full list of quizzes
.