StateMaster Today, 26th of September 2021: 3,732 Stats 1,144 Maps 840 Profiles
| | |
| --- | --- |
| SEARCH ALL | FACTS & STATISTICS Advanced view |
| Search encyclopedia, statistics and forums: | |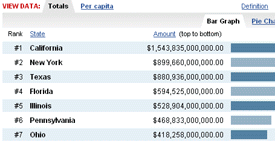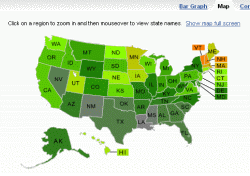 StateMaster: Where Stats Come Alive!

Welcome to StateMaster, a unique statistical database which allows you to research and compare a multitude of different data on US states. We have compiled information from various primary sources such as the US Census Bureau, the FBI, and the National Center for Educational Statistics. More than just a mere collection of various data, StateMaster goes beyond the numbers to provide you with visualization technology like pie charts, maps, graphs and scatterplots. We also have thousands of map and flag images, state profiles, and correlations.

We have stats on everything from toothless residents to percentage of carpoolers. Our database is increasing all the time, so be sure to check back with us regularly.

If you are interested in data on an international scale, be sure to check out NationMaster, our sister site and the world's largest central database for comparing countries.


UPDATED CRIME DATA!
Thursday, 31 March 2011
View: comments (9)
MAKING IT SUPER EASY TO GET REFERENCES FROM WIKIPEDIA ARTICLES
Tuesday, 1 March 2011
View: comments (4)
WE HAVE MORE QUIZZES THAN THE REST OF THE INTERNET COMBINED!
Wednesday, 8 September 2010
View: comments (3)
SEE WHAT'S HOT ON WIKIPEDIA IN OVER 13,000 CATEGORIES!
Friday, 23 July 2010
View: comments (5)
THE FULL WIKI MARRIES WIKIPEDIA AND GOOGLE MAPS.
Monday, 11 January 2010
View: comments (13)